Hebdenbridge.org.uk
Hebden Bridge was recently termed the 'funkiest town in Britain' by an article in a magazine. This is an accurate description; Hebden Bridge enjoys and fosters the creativity and freedom of its community. There is a myriad of genres of cafes and restaurants. There is a good number of specialist shops; if ever you want to purchase a gift then Hebden Bridge is the place for you. There's a theatre, a cinema and a live-music night club as well as good pubs and bars.

Hebden Bridge is as cosmopolitan as many city centres in England, but the town centre is so small you could walk around all streets in less than an hour. Like many town or city centres, there are ancient buildings and structures. On the right (in winter) we see the original Hebden Bridge; a packhorse bridge over the river Hebden and on to a packhorse trail that leads up to Heptonstall and beyond.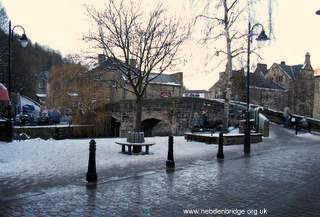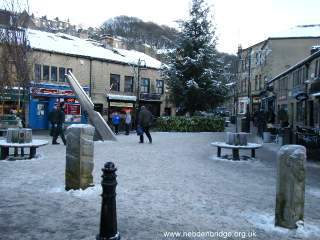 However, lovely though the town is, if you come to Hebden Bridge and confine your self to the town centre (the pedestrianised town square is shown on the left) then you would be largely missing the point. You could be accused of literally not seeing the wood for the trees to begin with, because Hebden Bridge is set at the foot of the confluence of densely wooded valleys, with its jewel, the National trust area called Hardcastle Crags. A view of Hebden Bridge from the hills, showing it set between densely wooded valleys, is shown on the right.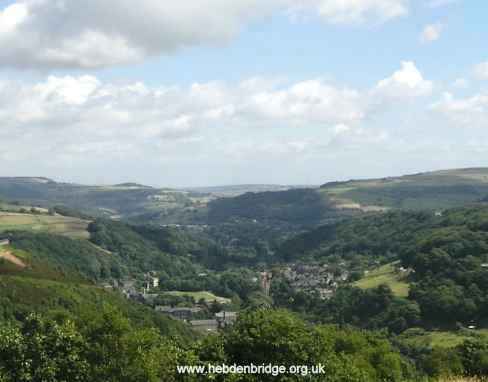 Where we have valleys, we have water. We have Hebden water (that the packhorse bridge stretches), which originates in Hardcastle Crags; an exciting flowing river which is often joined by waterfalls of the steep valley walls. We also have the Rochdale canal, of still water which runs through the town at right angles to the river.

Where we have valleys we have hills and the hills of Calderdale very steep; "trapping" the town (as Ted Hughes (the poet who originated from the area) put it). The hills form a breathtaking open space; you are up there in a very short time and the towns and business of life are forgotton. But there is more to see than hills and valleys, there is fabulous architecture; many unique mills, farmsteads, weavers cottages, mill ponds etc. to view.


[Self-catering stay accommodation ] [] [] [] []
[] [] [] []
---
To advertise on this site it is £10 per year for a link and short description, £20 per year for a link, short description and photo. However, if a link back to this site is included, then the fee is halved.
---
---
Links: [ Yorkshire Dales ] [ North Pennines ]
[ West Yorkshire] [ Bronte Country] [ Yorkshire Dales ] [ Pennines]
---